Girlfriends' Getaway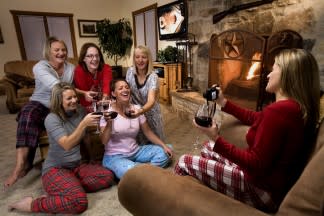 Any group of girlfriends that have escaped to Fredericksburg for a week or a weekend will tell you that they had one of their most fun times ever.  Grab the gals and get out and about the 'Burg!
Shop 'til you Drop! Let's be honest; there's nothing quite like finding that perfect skirt, funky new piece of jewelry or cool new addition to your home. And what better place to hunt down that fabulous find than the historic Main Street Shopping & Dining District in Fredericksburg. Block after beautiful block of fun, trendy boutiques, shops and galleries offer a wide variety of unique finds.  Want to kick up your group shopping experience a notch? Stop by Dooley's Five & Dime and check out the selection of hats (think pink & sparkly cowgirl) and transform yourself into a true 'Shopping Diva'!
Spa Time! Want to include some serious pampering time on your getaway?  Fredericksburg is home to over a dozen day spas that offer everything from massaging away those tired muscles (with zenhancers like adding warm stones and aromatherapy products) to serious reflexology treatments and refreshing facials.  Can you say, mani-pedi?  Several offer services direct to your B&B.
Take a wine tour. With more than 40 wineries in and around Fredericksburg forgo assigning a DD for your winery tour and hire one of our local wine touring companies so all can enjoy and no one gets stuck driving, and cleaning out the car.  One of our locals, Texas Wine Tours, offers a limo-style mini-coach that will whisk you away for either their half-day or full-day tours, or customize a special tour just for you.
Stay in a guesthouse or inn Remember those all-night sleepovers where we'd stay up late, talk about great fashion, the latest best read, exotic travels and boys…well, with over 1,200 B&B's, guesthouses and  inns, Fredericksburg has just the spot for that grown-up getaway.   Whether you want something a little more rustic or luxurious, a peaceful setting  just out-of-town or within walking distance to the shopping, dining & live music, there's a perfect B&B for you and your GF's to come in and have all to yourselves for those late-night chats.
Grab a light bite What better way to bond with your bestie than over fabulous food & cocktails?  From the perfectly chilled avocado soup at Peach Tree Tea Room to the gourmet treats from the woman-owned Chocolat, Lecia Duke, chocolatier.  And, all types of cuisine in between from casual Biergartens to upscale fine dining options.