Family Getaway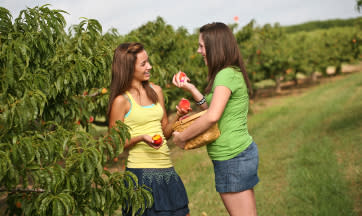 Fredericksburg, Texas has been named one of "10 Great Small Towns for Family Vacations" – so it's no surprise that it is a great destination for a family getaway! Here is a sample itinerary full of great ideas for your next family vacation to Fredericksburg!
Day 1 - Check into your accommodations. Whether you opt for a family-friendly guesthouse or a hotel with fun amenities – like a pool with a water slide – your home away from home awaits. After settling in, head to Main Street and grab a table on the patio at Burger Burger, where you and the kids can enjoy burgers, wings and shakes. After dinner, take a quick walk to Marktplatz (our Market Square) where the kids can enjoy the playground.
Day 2 - Lace up your walking shoes and get ready for a day of exploring downtown Fredericksburg! Make your first stop at Java Ranch, where Mom and Dad can grab a cup of joe and the entire family can enjoy a fuss-free breakfast like the locals.
After breakfast, head to the Visitor Information Center (located at 302 E. Austin St.) for an opportunity to ask Fredericksburg's "experts" questions, and pick up a bird's-eye-view-map of our downtown area in our 'express packet', snag a historical walking tour guide, a Kid's Guide and tons of great free Fredericksburg information.
Insider Tip: The visitor information center is located just a block off Main Street- and home to a free parking lot and a few shaded picnic tables.
Spend the day strolling the more than 150 shops, boutiques and art galleries along Main Street. Plan a strategic stop at Dooley's 5, 10 & 25 cent store for a true old fashioned variety store shopping experience. Don't forget a stop at the Old Thyme Fun Shop, where you can find classics like an old fashioned whoopee cushion! And we've got two kiddie clothing shops too – Fredericksburg Natural Baby and Liebeskind, A Children's Boutique both await eager shoppers.
Stop for lunch at Clear River Ice Cream and Bakery where everyone can order their simple favorites, like grilled cheese, chicken salad sandwiches, BLT's and more. Be sure to leave room for dessert – enjoy peach ice cream, cookies, pecan pie bars, milkshakes and more!
After lunch, it's time for some history. Use your historical walking tour map to guide you to the National Museum of the Pacific War – the only museum dedicated to the battles of the Pacific Theater –where you'll find interactive exhibits for adults and kids alike. The museum, and all of its hands-on exhibits (and cold AC), can be explored for an entire afternoon.
For dinner, head to Hondo's on Main Street, where the whole family can enjoy casual outdoor dining and live music.
Day 3 - Get ready for a day of outdoor fun with a quick bite at Hill Country Donuts and Kolaches. Then grab your sunscreen, a picnic and plenty of water and head out to Enchanted Rock State Natural Area. Start the day with a geocaching adventure across the park, before enjoying a picnic lunch with great views at the park's picnic area. After lunch, head up the summit trail to catch 360-degree views of the Texas Hill Country – and the perfect opportunity to snap your next Christmas card photo! Head back to Fredericksburg for dinner and opt for another outdoor dining experience on the patio at Burger Burger– where adults can feast on, or share, mega burgers, while the kids can enjoy smaller bites before heading "home" for some well-deserved rest!
Insider tip: If you're up for a nighttime adventure – add stargazing to your itinerary. Enchanted Rock was granted International Dark Sky Status in 2014 and is one of the best places for stargazing in Texas! Don't forget your flashlights for your journey back to the car. You can reserve a "Day Pass" to the park 30-days prior to arrival to secure your spot. 
Day 4 - Make breakfast at your guesthouse, or leave the cooking and cleaning up to someone else with a visit to the Old German Bakery along Main Street, then head to the Pioneer Museum, where the whole family can learn about how Fredericksburg came to be a little German/Texan town. Tour the 3.5 acre complex- including log cabins, a schoolhouse, and Sunday Haus for plenty of photo ops and *gasp* learning opportunities! For an extra memorable experience, the Pioneer Museum hosts special events- like Spring Break and Founders Day- where you and the kids can get hands-on experience at rope-making, candle-making and more.
Then take a quick drive to the Lyndon B. Johnson State and National Historical Parks in nearby Stonewall, Texas where you can tour the grounds of the  "Texas White House" and the former president's birthplace at the Lyndon B. Johnson National Historical Park, and then visit the Sauer-Beckmann Living History Farm at the Lyndon B. Johnson State Park and Historic Site just across the river. A working farm, costumed docents and the official longhorn herd of Texas await! Don't forget to pack your picnic – plenty of shaded picnic areas are the perfect place to enjoy a casual lunch.
After lunch, make memories and enjoy one of Fredericksburg's sweetest summer treats with a trip to a peach orchard. Pick your own peaches at one of our local orchards, or pick up a bushel of peaches at any of our roadside stands or orchards before heading to Luckenbach Texas (yes, the same Luckenbach Texas made famous by Waylon, Willie and the Boys) to teach the kids to two-step while enjoying the daily pickers circle under the old oak trees.
Grab dinner at the Luckenbach Texas Feed Lot (be sure to check operating hours first) or head back to Fredericksburg and enjoy dinner at any of our great restaurants before heading back to your accommodations for one last night in the Texas Hill Country!