Enchanted Rock
Visitors have been coming to Enchanted Rock State Natural Area for centuries and it remains one of the most popular things to do in Fredericksburg. It offers park camping, picnicking, 8.4 miles of hiking trails, a nature trail, interpretive exhibits, rock climbing, cave exploration, watchable wildlife and a park store. For a map of Enchanted Rock, click here.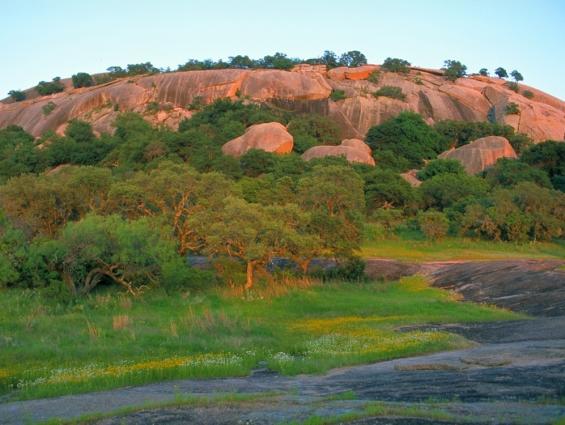 Attractions
Located in Gillespie & Llano Counties, 18 miles north of Fredericksburg on RR 965 or south from Llano on S. State Hwy 16 for 14 miles, then west on R.R. 965 for...
Read More
Helpful Tips:
A reservation is highly encouraged prior to traveling to Enchanted Rock State Natural Area.
Visit the Texas Parks & Wildlife Reservation System to make a reservation for park entry.
Reservations may be made up to 30 days in advance of arrival.
Spring is a busy time for the park and reservations typically sell out, especially on weekends.  
All park trails close at sunset, except the Loop Trail.
Pets are not allowed on the Summit Trail.
The park will close when capacity is reached.
Rain causes the closure of many of the park's trails.
 
Current Conditions
Frequently Asked Questions
Are reservations required at Enchanted Rock?
No, but advanced reservations are highly encouraged. Reservations are required for day passes and overnight stays are required on weekends, school breaks and holidays. While not required on regular weekdays, Enchanted Rock usually reaches capacity every day. To guarantee entrance reserve passes online, or by calling the customer service center, before you visit.
To make an online reservation, click here.
Is there overnight camping at Enchanted Rock?
Where are places to stay around Enchanted Rock?
Is Enchanted Rock pet-friendly?
Yes, but to protect the ecosystem of Enchanted Rock, pets are only allowed in the designated picnic areas, the campgrounds, and on the Loop Trail. Pets are not permitted on the Summit Trail leading to Enchanted Rock's highest dome, or any of the seven peaks of the granite uplift.
Browse other pet-friendly locations in Fredericksburg.