Romantic Getaway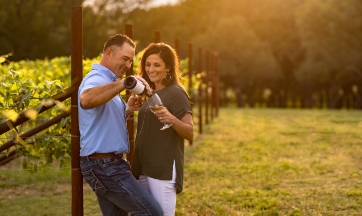 It's no secret that Fredericksburg is the perfect destination for a romantic getaway, CNN Travel has listed Fredericksburg as one of "6 of America's most romantic small towns," Travel & Leisure selected the town as one of "America's Most Romantic Winter Destinations" and TripAdvisor picked Fredericksburg as one of "11 Super Romantic Texas Getaways For Couples."
Find some romantic getaway ideas for you and your significant other in this suggested itinerary:
After checking into your romantic Texas Hill Country accommodations for the evening, head to dinner at one of our great casual restaurants for a low key dinner for two before retiring to your cozy accommodations and kicking off your romantic getaway in Fredericksburg.
Day 1: Enjoy breakfast in bed (check with your accommodations on breakfast availability) or enjoy breakfast at any of the restaurants in our National Historic District and get a sneak peek in the windows along Main Street before the shops open for the day.
Spend the day strolling hand-in-hand browsing the more than 150 shops, boutiques and art galleries along Main Street in search of the perfect memento of your romantic Fredericksburg getaway. With so many one-of-a-kind shops, you and your loved one are sure to find something that you'll cherish for ages - like a pair of custom cowboy boots, an iconic work of art, or even a custom piece of jewelry from one of our local artists. While you're walking along Main Street make sure to stop and grab a beer or glass of wine from any of the tasting rooms along Main Street, which you can enjoy on the go in the historic district.
After a day of shopping, enjoy a romantic dinner for two at any of our fine dining restaurants, then head out for a night on the town and enjoy an evening of live music – maybe even Texas two-step and break in those new cowboy boots in the historic dance hall at Luckenbach Texas.
Day 2: The next day, explore the 50-plus wineries and tasting rooms with the one you love. Keep it safe and simple - book a wine tour for two with a local wine tour company. Nothing says romance like being whisked away in a limo! If you're looking for something extra special, plan ahead for the "Texas cheese and wine experience" at the Texas Wine Collective, the Barrel Tasting and Tour at Grape Creek Vineyards or the Library Tasting at Becker Vineyards.
For lunch - plan ahead and pick up a charcuterie board and other nibbles at La Bergerie, Sweetbriar Rose or Fresh Pickens and get extra romantic with a picnic lunch at a winery or enjoy bistro bites at the Inwood Estates Winery & Bistro.
After exploring Texas Wine Country, and maybe even joining a few wine clubs, enjoy a special dinner for two – perhaps at Cabernet Grill, one of Wine Enthusiast's America's Best 100 Wine Restaurants in 2018 and 2019, or at August E's where you and your love can experience Nouveau Texas Cuisine.
After dinner, head back to your accommodations, snuggle up by the fire and get ready for another day in Fredericksburg, Texas.
Day 3: Get up and at 'em early and enjoy a spa treatment for two at one of our local spas. After a relaxing couples' massage, grab lunch and spend the afternoon taking a leisurely hike up to the summit of Enchanted Rock where you can watch the sunset over the Texas Hill Country. Stick around to gaze at the stars, as Enchanted Rock is one of only two designated Dark Sky Parks in the state of Texas- which means the stars are bigger and brighter than almost anywhere in Texas.
Spend your final evening enjoying a candlelight dinner for two at your romantic accommodations before heading back to reality. But don't worry- you can come back to this romantic oasis any time!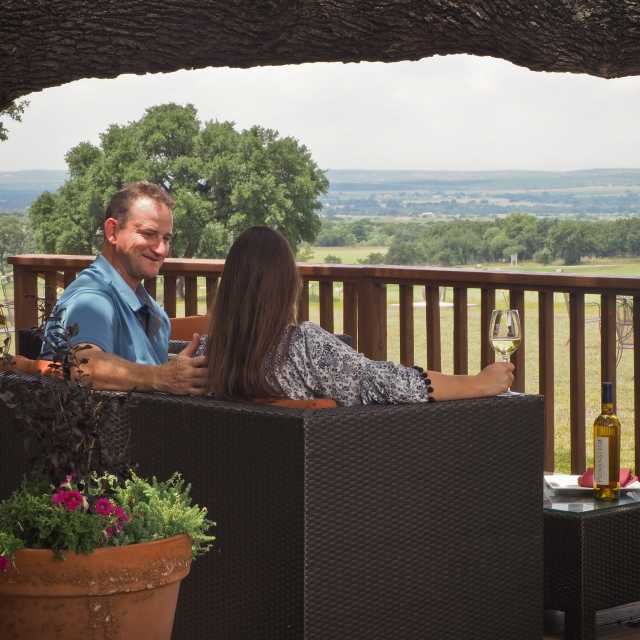 With dozens of picturesque wineries to explore, more than 150 shops, boutiques and art galleries to browse on Main...
Learn More
With dozens of picturesque wineries to explore, more than 150 shops, boutiques and art galleries to browse on Main...
Learn More