Romantic Getaway
It's no secret that Fredericksburg is the perfect destination for a romantic getaway, CNN Travel has listed Fredericksburg as one of "6 of America's most romantic small towns," Travel & Leisure selected the town as one of "America's Most Romantic Winter Destinations" and TripAdvisor picked Fredericksburg as one of "11 Super Romantic Texas Getaways For Couples."
For years, Fredericksburg has been known as a weekend destination, but the Texas Hill Country is a one of the best places to visit midweek. Visiting mid-week provides great perks. 
Find some romantic getaway ideas for you and your significant other in this suggested itinerary. For more great ideas, free parking, restrooms and WiFi, start your journey at the Visitor Information Center.
---
Book Your lodging
Fredericksburg is home to a variety of lodging options, and is often referred to as the unique lodging capital of Texas. Find the perfect romantic amenities, including rooms with a view, hot tubs and more. 
---
Arrive in Fredericksburg
After checking into your accommodations for the evening, head to dinner at one of our great casual restaurants for a low-key dinner for two before retiring to your cozy accommodations and kicking off your romantic getaway in Fredericksburg.
---
Day one
Enjoy breakfast in bed or on the front porch of your accommodations. Or leave the cooking to someone else, and visit one of Fredericksburg's great breakfast and brunch spots. Then talk a walk down Historic Main Street to get a sneak peek of the shops before they open for the day. 
Spend the day strolling hand-in-hand browsing the more than 150 shops, boutiques and art galleries along Main Street in search of the perfect memento of your romantic stay. With so many one-of-a-kind shops, you and your loved one are sure to find something that you'll cherish for ages - like a pair of custom cowboy boots, an iconic work of art, or even a custom piece of jewelry from one of our local artists. While you're walking along Main Street make sure to stop and grab a beer or glass of wine from any of the tasting rooms along Main Street, which you can enjoy on the go in the historic district.
Insider tip: Most shops open around 10 a.m. each day and close between 5 p.m. and 6 p.m. Check individual shops for more information. 
After a day of shopping, enjoy a romantic dinner for two at any of our fine dining restaurants, then head out for a night on the town and enjoy an evening of live music – maybe even Texas two-step and break in those new cowboy boots in the historic dance hall at Luckenbach Texas.
Day Two
Spend today tasting and sipping on some of the best wines in Texas. Explore more than 50 different wineries and tasting rooms. 
Keep things simple and book a wine tour with a local tour company. Opt for a more intimate experience or join in on the fun with other visitors. 
Insider tip: Most wineries now offer light bites and snacks. Or head back to town to enjoy a light meal at one of our great lunch spots. 
Take the afternoon to stroll through one of Fredericksburg's great museums. The Pioneer Museum offers a look into the town's rich German heritage and history. The National Museum of the Pacific War, a Smithsonian Affiliate, is dedicated to those who served in the Pacific Theater during World War II.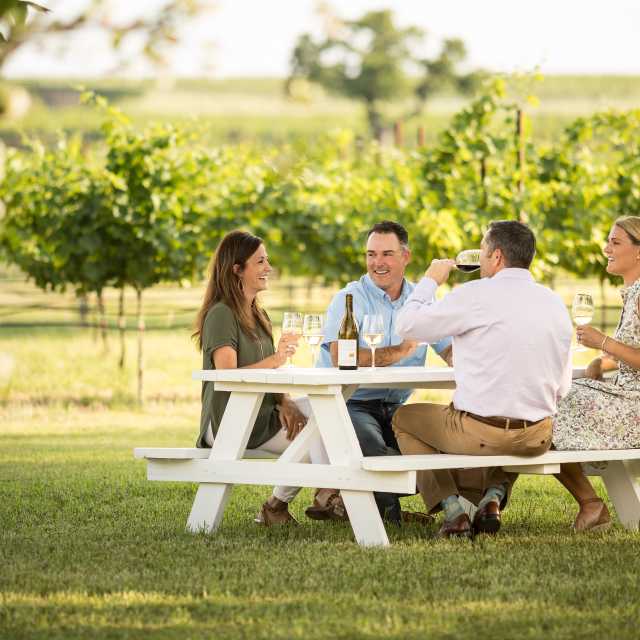 The Texas Hill Country is home to over 60 wineries and vineyards and Fredericksburg is the epicenter of Texas Wine...
Learn More
The Texas Hill Country is home to over 60 wineries and vineyards and Fredericksburg is the epicenter of Texas Wine...
Learn More
Dinner for two
Enjoy dinner for two at one of Fredericksburg's newest restaurants or try an old favorite in a new location.
---
more romantic resources
Fredericksburg is dedicated to making your romantic trip the best possible. If you're looking for more ideas and inspiration, head on over to our tips and tricks for celebrating special and romantic occasions.