7-Day Getaway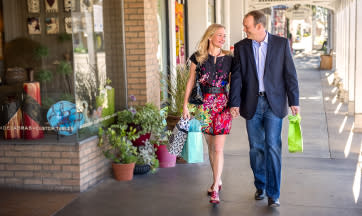 Day One
Arrive in Fredericksburg.  Stop at the Visitor Information Center, located at 302 East Austin Street downtown, for a friendly welcome, maps and directions, information on restaurants and shops, a schedule of events and more.   Watch our 10-minute welcome DVD on Fredericksburg's history and attractions.
 
Your second stop might be the Pioneer Museum Complex, located at 325 West Main Street.  Get a quick introduction to the fascinating history of Fredericksburg – why the Germans came to Texas, who negotiated a peace treaty with the Comanche Indians, what are Sunday Houses and much more.   Purchase a book about Fredericksburg or German immigration into the Texas Hill Country.
 
Mid to late afternoon:  check into your lodging property – maybe it's a modern hotel, a historic log cabin, a charming inn or a flat over one of the shops along Main Street.  Check in times vary so consult your reservation information.
 
Enjoy dinner at one of our restaurants – you choose whether it's Biergarten casual or fine dining or something in between.
 
Window shop on Main Street after dinner for a preview of the boutiques, art galleries, food emporiums and bakeries that you will want to return to.  Note – most of the shops along Main Street in the historic district open around 10:00 a.m. and close between 5:00 and 6:00 p.m. Mondays through Saturdays.  Some shops are closed on Sundays – with hours for most from 11:00 a.m./noon to around 4:00/5:00 p.m.
Day Two
Start today at The National Museum of the Pacific War – a museum you should not miss on your visit.  Due to its massive size after an expansion in 2009, tickets are now valid for 48 hours so you can cover part of the museum today and the rest on the next day. The expanded George H.W. Bush Gallery tells the story of world events leading up to Pearl Harbor and then chronicles the battles of the Pacific in World War II, as well as the home front. The Admiral Nimitz Gallery, located in the old Nimtz Hotel, follows the life and career of Fleet Admiral Chester W. Nimitz, who was born in Fredericksburg. Other parts of the museum complex include the Pacific Combat Zone, the Plaza of the Presidents, the Memorial Courtyard and the Japanese Peace Garden.  The museum opens at 9:00 a.m. daily.
It's probably time to grab some lunch.  So stroll down Main Street and find an outdoor café that will provide some good people watching!
 
This afternoon you may want to head out Highway 290 east of Fredericksburg to Wildseed Farms, the largest working wildflower farm in the United States.  Depending on the time of your visit, various wildflowers will be blooming during the growing season. Any day of the year, the Market Center is filled with merchandise for gardeners and those who wish they had a green thumb!
 
This is also the heart of Wine Road 290, showcasing ten wineries from just west of Fredericksburg to just east of Johnson City. Most tasting rooms are open daily so stop in and partake of some of the best offered today by the Texas wine industry.
 
Fredericksburg offers a stellar array of fine dining choices and tonight would be a great time to experience one of them.  Good news for the guys – no need for a coat and tie here!
Day Three
Early to rise this morning for an awe-inspiring hike to the top of Enchanted Rock – estimated to be one billion years old. The state natural area opens for day use at 8:00 a.m.  You might consider taking lunch or a snack from one of our great bakeries with you.  And don't forget to take plenty of drinking water with you.  If you are an outdoor enthusiast, you can easily spend all morning or the better part of the day here.
 
If you want to finish out the exhibits at The National Museum of the Pacific War allot another couple hours for the museum this afternoon.  Note:  the museum does close at 5:00 p.m.
 
After your outdoor adventure this morning, tonight might be the perfect time for a hearty German meal.  Several restaurants offer authentic German cuisine, as well as German imported Biers.  Or you might want to check out the Fredericksburg Brewing Company, for some award-winning local beers.
Day Four
Today it's time to explore the life and times of Lyndon Baines Johnson, the 36th president of the United States, and Lady Bird Johnson, known for her roadside beautification projects.    Drive 30 minutes east to Johnson City to start at the main visitor information center for the Lyndon B. Johnson National Historical Park. Check out the boyhood home and the Johnson settlement there.  Then head to the Lyndon B. Johnson State Park and Historic Site where you will pick up a driving pass to visit to visit the LBJ Ranch and The Texas White House, which is now open for guided tours.  And don't forget to experience the Sauer-Beckmann Living History Farm at the state park, where interpreters in costume go about the tasks of a German farmstead in the early 1900s.
 
Depending on how early you started your excursion today, stop for lunch in Johnson City or in Stonewall or head back to Fredericksburg for a late lunch.
 
If there are shoppers in your group, this afternoon would be a great time to explore the boutiques, art galleries, food emporiums and so much more along historic Main Street.
 
Located in the heart of Texas, our cuisine is flavored by the influences of Spain and Mexico.   Stop in at one of our Tex-Mex restaurants and check out the enchiladas and tacos!
 
If it is a Friday or Saturday evening in Fredericksburg, finish out your evening with some live Texas music at Hondo's on Main, Crossroads Saloon & Steakhouse, The Auslander, The Officer's Club at The Hangar Hotel, or Silver Creek.
Day Five
Ok, you have been going full steam ahead since arriving so when does the "relaxing" start? How about today at one of our day spas?  Swedish massage, reflexology, aromatherapy facials and so much more.   At the Fredericksburg Heb Farm, there is even a wonderful restaurant right on-site next to Nature's Spa so you don't have to go far for lunch.
 
Spas not your style of relaxing?  What about a round of golf at the 18-hole Lady Bird Johnson Municipal Golf Course?  Catch lunch at the Red Bird Grill right there at the clubhouse or check out The Diner at The Hangar Hotel, overlooking the runways at the Gillespie County Airport and not far from the golf course.
 
May we suggest for dinner tonight at one of our restaurants that incorporates locally produced game meats, cheeses and vegetables into their menu, paired with Hill Country wine.   And if you are here during peach harvest season (mid-May through August) you have to try a dessert with Gillespie County peaches — yummy!
Day Six
Today it is time to see the back roads of Gillespie County!  The Texas Hill Country is known across the state as a great place for bicycling, with county roads around Fredericksburg, Harper, Doss, Willow City and Stonewall providing miles of paved routes with relatively little traffic.  Note:  stay off of Highway 290 east of Fredericksburg with your bicycle – no shoulders and too much traffic going too fast!
 
If touring by auto is more your style, the Gillespie County Country Schools Driving Trail provides four routes around the county that showcase 12 historic schools built by the Germans in the late 1800s and early 1900s.  Driving time on each route is from 1 ½ hours to three hours.   You will see some beautiful Hill Country vistas!
 
You are in Texas so go for the steak tonight!
 
You cannot end your Fredericksburg/Texas Hill Country vacation without some two steppin' at the legendary Luckenbach Texas, immortalized in song by Waylon and Willie.  The dance hall has dances most Friday and Saturday nights, with pickers under the oak tree every day.
Day Seven
Last chance for souvenirs and gifts for friends or the office.  A bottle of Texas wine, some Texas BBQ sauce, a jar of Gillespie County peach preserves, a piece of locally hand-crafted jewelry or some music recorded live at Luckenbach Texas?
 
Sorry, it is time to check out of your lodging property!
With over 400 annual events a year, we hope you will find a reason to come back again and again.