Parting with your pet on vacation can be a hassle, so why not bring them with you? Fredericksburg has plenty of activities, restaurants, places to stay and wineries that welcome man's best friend.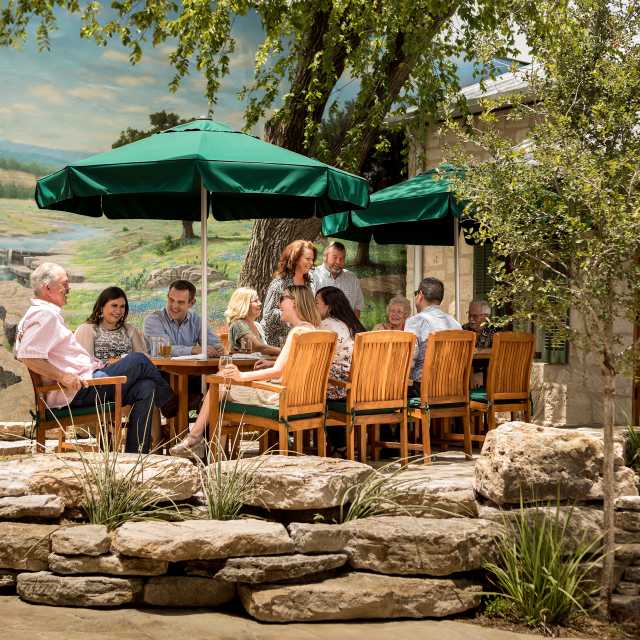 If you're visiting Fredericksburg with your four-legged friend, make sure to visit these pet-friendly restaurants....
Learn More
If you're visiting Fredericksburg with your four-legged friend, make sure to visit these pet-friendly restaurants....
Learn More
Dine with your dog at several of Fredericksburg's great eating establishments. Various patios are dog-friendly, while area dancehalls have free space for pet-friendly play areas. 
Hondo's, a popular restaurant and live music venue, offers the best in Texas food, drinks, fun and music. The outdoor area, right near the band stand, is perfect for your pet to relax and celebrate Texas too. 
A historic ice house and beer garden, Pecan Grove Store, cooks up 'Dino' burgers, tacos and other favorites Thursday through Sunday. The outdoor restaurant has plenty of picnic tables and room for you and your pet to spread out. Live music is played weekly. 
Recently relocated and remodeled, West End Pizza Co. has a great outdoor space for you and your pet to enjoy great pizza. The outdoor seating area is pet friendly and has plenty of shade and big screen TVs. 
Munch Food Park is home to a wide selection of food trucks (Mexican food, traditional American food, Vegetarian and shaved ice), a beer and wine bar, live music and a kid's playground. 
Dog- Friendly Parks and Outdoor Activities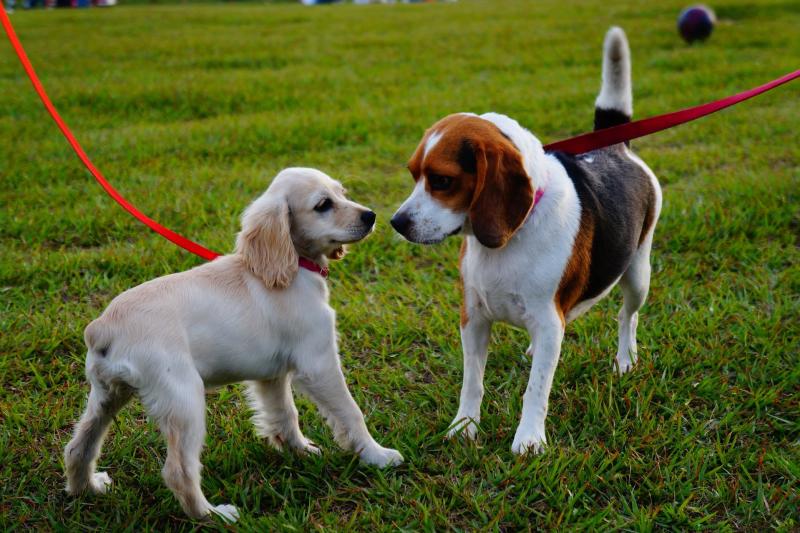 Spending time with your pet in the great outdoors can be one of the highlights of your next visit to the Texas Hill Country. From the town's new dog park to taking a walk on a nature trail, there are options to keep you and your pet moving. 
The City of Fredericksburg and the Fredericksburg Dog Park Association joined together to create a dog park at Lady Bird Johnson Municipal Park. The park provides plenty of shade, water, ample seating and room for dogs to run, wag and sniff. There are designated areas for small dogs (under 25 pounds) and large dogs (over 25 pounds) and is perfect spot for both canines and their owners to get sun, socialization and exercise. Dogs must be attended and in view at all times and must be leashed when not in the fenced area. All dogs must have proof of current vaccination. Dogs under four months are not permitted. 
Grab your pet and some water and head out to Lady Bird Johnson Municipal Park to enjoy 10-plus acres of natural landscape. Talk a walk around the one-mile walking trail along Live Oak Creek. There is no fee for admission. 
Take in the beautiful Texas Hill Country views with a short walk up Cross Mountain. The historic hill features views for miles, walking trails, a butterfly garden and picnic area. During the founding of Fredericksburg, a timber cross was found on the historic hill top, previously used as a lookout point. 
To protect the natural area, pets are only permitted on the Loop Trail at Enchanted Rock. Dogs are not permitted on the Summit Trail, the trail leading to the top of Enchanted Rock. 
Pet-friendly places to stay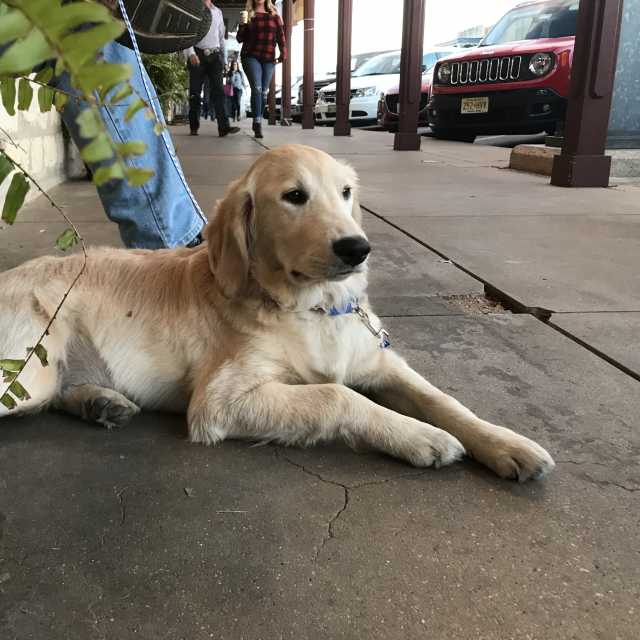 Fredericksburg is home to a number of pet-friendly accommodations including hotel/motels and guesthouses. While some...
Learn More
Fredericksburg is home to a number of pet-friendly accommodations including hotel/motels and guesthouses. While some...
Learn More
From water bowls to fenced yards with room to run, Fido will feel right at home while also enjoying a vacation. Fredericksburg is home to a number of pet-friendly accommodations including hotels and inns and vacation rentals. Some may charge a pet fee and limit the size of your pet, so it is best to verify when booking. 
Designed with the dog-lover in mind, this property provides dog beds, bowls, welcome dog treats, indoor dog crates and an outdoor kennel. There is also a fenced yard  so dogs can enjoy the great outdoors. Non-canine guests are treated with a covered deck and porch, a fully-equipped kitchen, spa robes and more. The home is located near walking trails and guests are provided with a $25 gift certificate to Fredericksburg's pet-friendly store, Dogologie, and guests can use their crate rental service to keep your dogs while you enjoy all the Fredericksburg has to offer. 
This fully-updated, dog-friendly home is located just outside of Fredericksburg. The home has an expansive patio and a fenced yard so your dog will have room to run. For guests, this home can sleep up to 12 people and is close to Wine Road 290 and minutes away from Fredericksburg shops and restaurants. There is a full-kitchen, free WiFi and views for miles. 
This old-time cabin reflects the old days of the Texas Hill Country but has updated amenities and lots of comfort. The property can host your favorite pet and includes a large pillow for them to be treated like royalty. For owners, the home has a porch for enjoying wine and coffee, a fire pit under the Texas night sky and lots of wildlife. 
This restored German farmhouse is located in the heart of downtown Fredericksburg and puts Fido's fun first. Hosts have provided everything including dog crates, dog bowls and fenced yard. The home has plenty of windows and space for entertaining inside and out. The home can sleep up to eight guests and includes a full kitchen with wine fridge. 
Pet-Friendly Wineries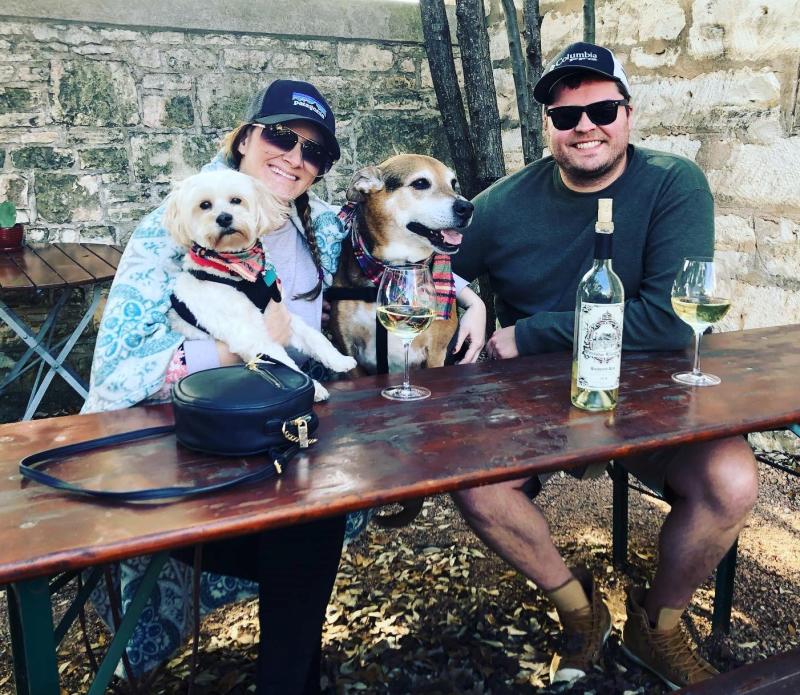 Fredericksburg is Texas Wine Country and many of those great wineries are also pet-friendly. Bring your furry friend with you as you sip and explore award-winning wines. 
Kalasi Cellars offers a holistic view of the wine-making process from planting the best varietals to picking the fruit at just the right time. Kalasi is pet friendly as long as pets are well-behaved. Fido will be greeted with a special treat and can enjoy the outdoor seating. Dogs must remain on a leash and stay away from the winery's resident llama, Dalai. 
Pontotoc Vineyard and Weingarten is nestled in a quaint cottage along historic Main Street. The Weingarten provides a pet-friendly and family-friendly environment that is perfect for a picnic and sharing local food and wine. All of their wines are named after historic locations and geological formation in the Texas Hill Country.
Offering water bowls and dog treats, Texas Wine Collective is a great winery to bring along Fido. For pet-owners, Texas Wine Collective offers wines from three different Texas wineries, including McPherson Cellars, Lost Oak Wineries and Brennan Vineyards. In addition to wine tastings, the winery also offers wine and cheese pairings as well as wine and chocolate pairings.