This October, when the moon casts its glow, Fredericksburg becomes a special - and a little spooky - place that beckons the spirited and the brave. From sweet treats to hair-raising activities, explore all of the fun Halloween activities Fredericksburg has to offer. Boo, y'all!
history's mysteries
Step back in time for a one-mile walking tour through local history on the Haunted Fredericksburg Ghost Walk and Jail Tour. Tours are offered on Fridays at 8:30 p.m. and Saturdays at 8:30 and 9:30 p.m. Dressed in 1800s attire, tour guides take visitors to various locations around town with tales of Fredericksburg's storied past. Tours are kid-friendly and last around 90 minutes.
Architecture and history buffs will enjoy the Historic County Jail Tours every first Saturday of the month. Built in 1885, spooky stories abound within its century-old walls. Pro tip: Admission to the jail is included in a Day Pass to Pioneer Museum. Admission for the jail tour only is $5 per person for ages 6 and up. Kids ages 5 and under are free. Tickets can be purchased online or at Pioneer Museum or Vereins Kirche Museum. Only cash payments can be accepted at the jail. 
Explore Fredericksburg's German heritage at its two historic cemeteries located at the east and west ends of town. Der Stadt Friedhof and the Catholic Cemetery are both known for their striking granite markers and headstones, many in German.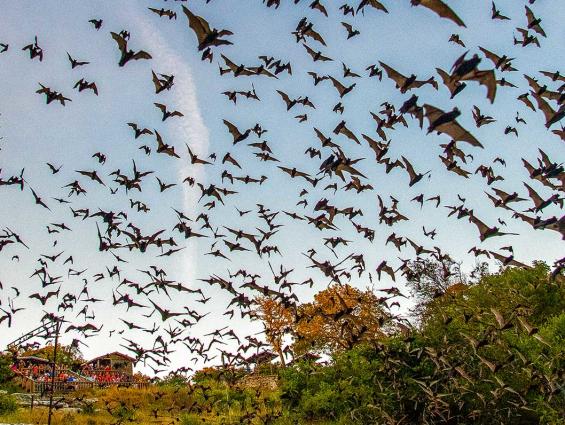 From May-October, bats emerge nightly from their roost in an old railroad tunnel.
Read More
when darkness falls
To the bat cave! For an eerie thrill, watch real creatures of the night emerge from an abandoned railroad tunnel at Old Tunnel State Park Bat Cave. Around 3 million Mexican free-tailed bats embark each night from the tunnel and spiral upward as they begin to feed on moths and larvae. Listen for the fluttering sounds of millions of tiny wings, and feel the night air stir around you.
Bats live in the tunnel from May through October. During these months, rangers lead nightly programs that begin 30 minutes to an hour before the bats emerge.
To view the bats, tickets must be purchased online in advance. Prices range from $2-$5 per person.
The upper viewing area is open nightly. The lower viewing area, which offers the best view of the bats, is open Thursday through Sunday evenings, May through October. 
Pro tips: Bring binoculars for closer views! Space is limited. Children under age 4 are not allowed in the lower viewing area due to the bats' sensitivity to noise.
tricks *AND* treats
No trip to Fredericksburg would be complete without something good to eat! Bring your little monsters and sink your fangs into these specialty foodie stops.
No bones about it: October is full of events in Fredericksburg. If you can't make it this time around, it's never too early to plan your next trip. No matter the season, you'll always find something fun in Fredericksburg!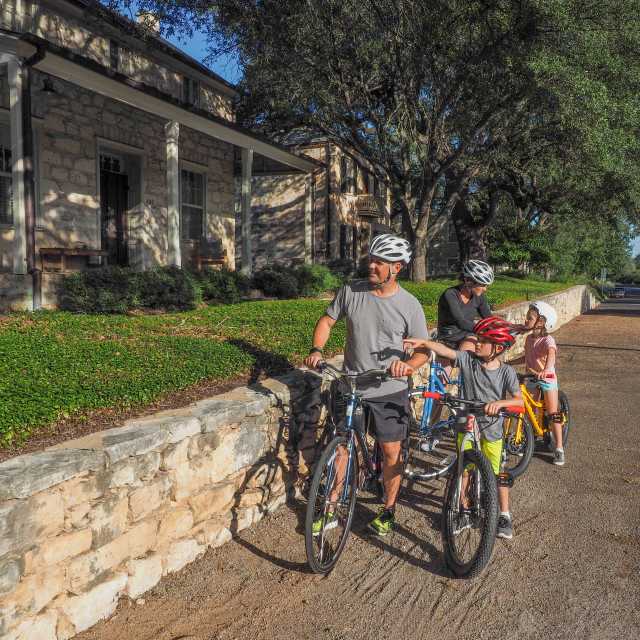 Whether you are considering your first trip to Fredericksburg or have been coming for years and want to discover...
Learn More
Whether you are considering your first trip to Fredericksburg or have been coming for years and want to discover...
Learn More