Some may call it a super-sized ornament or a giant children's toy, but what really is that wooden, spinning thing in the middle of Fredericksburg each holiday season?
What is it? The 26-foot carousel-like structure is called a Weihnachtspyramide, or Christmas Pyramid. These wooden pyramids are a traditional German decoration dating back to the 16th century. It is an art form that many believe evolved into our current custom of a Christmas tree.
Where did it come from? Christmas pyramids have their roots in the German Erzgebirge (Ore Mountains), a silver ore mining region in the eastern part of Germany. When the mines began to close, the manufacture of wooden toys became a newfound source of income.
What is it for? Woodworkers would use their moving artwork to capture the attention of children and teach them Bible stories. The artisans would create figurines depicting each part of a story and arrange them in order on the tiers of the pyramid. Typically, Christmas pyramids tell the Nativity story of Jesus' birth and include angels blowing their trumpets, shepherds visiting the stable, and magi bringing gifts.

While still a storytelling form of art, Christmas pyramids serve a mainly decorative purpose today. Most are table-top size and used in homes as a holiday decoration—filling children and adults alike with holiday cheer as lighted candles spin the windmill round and round.
When did this pyramid come to Fredericksburg? Fredericksburg's Christmas pyramid, handcrafted in Germany, was first displayed at Marktplatz during the 2009 holiday season. It is illuminated each year in November, kicking off the Christmas season in Fredericksburg, and remaining lit through the first week of January. It was the first large-scale German Christmas Pyramid in the United States and stands every holiday season symbolizing our town's lasting German heritage.

Where you can buy a table-top version of the pyramid in Fredericksburg? Kuckucks Nest and The Grasshopper.
Click below to learn more about a holiday visit to Fredericksburg.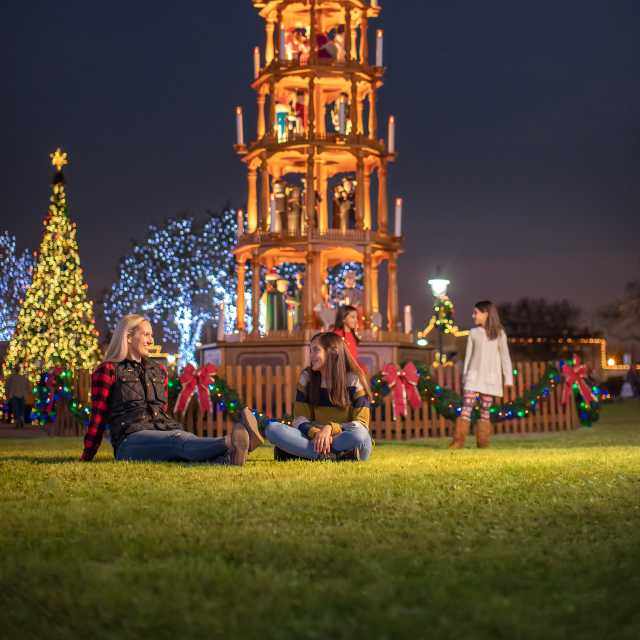 German traditions, timeless holiday décor, endless Christmas cheer and four weeks of festive holiday...
Learn More
German traditions, timeless holiday décor, endless Christmas cheer and four weeks of festive holiday...
Learn More