Texas Wine Country is one of the United States' most visited wine regions and part of the fifth largest wine-producing state in the country. Whether you are a long-time Texas wine enthusiast or looking to explore the region for the first time, here are insider tips, answers to frequently asked questions and recommendations that any wine lover will find helpful.
At the heart of Texas Wine Country is Fredericksburg and the Texas Hill Country AVA (American Viticultural Area), the second largest certified Viticultural Area in America with well over nine million acres. Inside this region are over 50 wineries, vineyards and tasting rooms producing some of the best vino that Texas has to offer.
WHERE IS TEXAS WINE COUNTRY?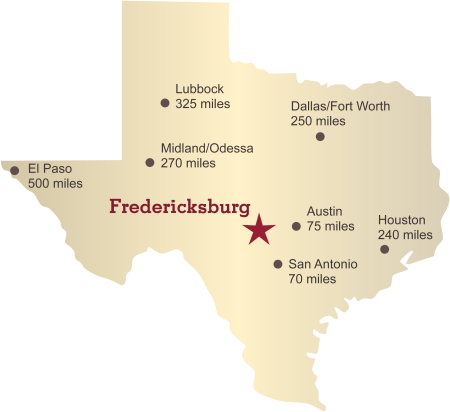 Fredericksburg and Texas Wine Country are located just an over an hour from Austin and San Antonio, making it an easy destination to reach for millions of Texans and travelers from around the world. Centrally- located in the state of Texas, the area is also just a four hour drive from Dallas, Fort Worth and Houston.
Popular with Texans for years because of its legendary shopping and bountiful peach crops, Fredericksburg has evolved into a wine destination unlike any other in the country. It boasts a small-town feel with the restaurants, accommodations, shops and attractions usually reserved for a much larger destination. Settled by German immigrants in the 1840s, Fredericksburg's rich German heritage is still evident today among its architecture, cuisine and its friendly people.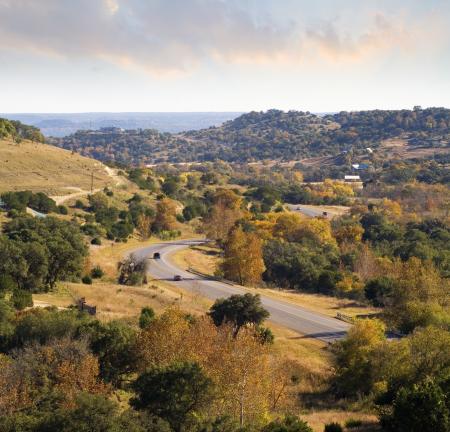 Set in the backdrop of the Texas Hill Country, Fredericksburg and Texas Wine Country feature some of the best natural scenery that the state has to offer. Whether it be the rolling hills, tree-lined creeks and rivers, expansive night skies or unique granite and limestone outcroppings, the area is filled with outdoor adventure.
WHAT IS THE BEST TIME TO VISIT TEXAS WINE COUNTRY?
Texas Wine Country is a popular destination to visit year round. Pleasant temperatures and the draw of the area's wildflowers make March, April and May a prime time to visit. The grape harvests of August and September and Fredericksburg's well-known fall festivals in October, including Oktoberfest and the Fredericksburg Food & Wine Fest, make the fall season a desired time to visit as well, plus October is Texas Wine Month with special events for visitors and residents alike. Finally, no one does the holidays quite like Fredericksburg. During Weihnachtszeit, the town is decked out in lights and Christmas décor, starting the Friday after Thanksgiving and running through the New Year.  Besides the aforementioned events, Fredericksburg and Texas Wine Country hold over 400 events each year.
PLAN YOUR TEXAS WINE COUNTRY TRIP
Finalizing a trip to Texas Wine Country, can be as easy as 1, 2 and 3…
Where To Stay In Texas Wine Country



There are  nearly 1,500 vacation rentals, B&Bs, guesthouses and inns in Fredericksburg and Gillespie County. Those lodging options are in addition to the more than 20 hotels and motels in the county. For a complete list of all local accommodations, including properties that book independently, search online. You can search by location, price, accessibility, kid and pet-friendly properties, amenities and number of guests that can be accommodated.
Texas Wine Country Tours
 
With most wineries in Texas Wine Country, located within a 30-minute radius of Fredericksburg, it is best to begin your wine experience from town. Travel to the wineries can be made by personal car, but remember to always designate a driver. If you would like to leave the driving to someone else, the area boasts over 25 tour and shuttle companies that offer visitors the chance to spend the day tasting instead of driving. Along with wine tour companies, the area has several taxi services and ride-sharing services, which can transport you around Texas Wine Country.
Best Texas Wine Country Wineries



The wineries in Texas Wine Country range from some of the largest in the state to some that just produce several hundred cases per year. They offer a wide variety of wines, including dry, semi-sweet and sweet. Many wineries have brought home medals for their wine from competitions around the nation and annually continue to produce some of the best Texas wine.
The grape varietals of Texas range from Bordeaux blends to Mediterranean varietals. Viognier, Marsanne, Roussanne, Syrah, Tannat, Picpoul, Cinsault, Petite Sirah, Sauvignon Blanc, Malbec, Cabernet Sauvignon, Sangiovese and Tempranillo are all popular in the Lone Star state.
You can also find a great selection of Texas wines without ever leaving downtown Fredericksburg. With more than 10 wineries and tasting rooms located around the town's Main Street, you can sample Texas wine as you shop the more 150 antique, home décor, fashion stores and art galleries.
Insider Tips:
Before arriving in Texas Wine Country check to see if you are visiting while the Texas Hill Country Wineries are offering a wine passport. Happening four times each year, the wine passport program allows visitors to sample wine at more than 50 area wineries and receive discounts on bottle purchases.
For more information on a visit to Texas Wine Country, contact a travel counselor of the Fredericksburg Convention & Visitor Bureau by clicking here.
OTHER ATTRACTIONS TO SEE IN TEXAS WINE COUNTRY
Luckenbach Texas, where "Everybody's Somebody", established as a trading post in 1849.  There is an old dance hall still in use every weekend, live music daily, a General Store and a bar.  A great place to visit, sit back under the old 500-year-old oak trees, relax and listen to live music.
Enchanted Rock State Natural Area - The massive pink granite dome rising above Central Texas has drawn people for thousands of years. But there's more at Enchanted Rock State Natural Area than just the dome. The scenery, rock formations and legends are magical, too! Insider tip: Before you head out to Enchanted Rock, reserve your "Save the Day Pass" up to 30 days before arrival, so that you can avoid lines and be guaranteed a spot in the park. 
Wildseed Farms is the nation's largest working wildflower farm. The farm has more than 200 acres of wildflower fields at its Hill Country headquarters outside of Fredericksburg. Come and view a real working wildflower farm and stay to shop at the Market Center where you can find gifts and home décor and Texas native plants and pottery.
Shopping – Tucked away in over 150 shops, galleries and boutiques here in Fredericksburg, you'll find creations by a variety of local artists. Women's fashion ranging from vintage and hand-sewn to upscale contemporary. A staggering collection of home décor. Antiques, Western wear, antiquarian and Texana books. Gourmet food. And yes, even Lederhosen. Two tips: bring comfy shoes, and visit one of our spas after you're done!
Museums - Our German heritage and national history are very much alive here. You'll see it in the architecture of our town buildings, unique Sunday Houses and quaint country schoolhouses. Explore it at the Vereins Kirche, Pioneer Museum, Sauer-Beckmann Living History Farm, the National Museum of the Pacific War, LBJ's Texas White House at the LBJ Ranch in Stonewall, Fort Martin Scott and the Texas Rangers Heritage Center.
HISTORY OF TEXAS WINE
The history of wine in Texas is a long one. The first vineyard established in North America was in Texas around 1662 by Franciscan priests. As European settlers followed the development of mission outposts, they brought more grapevine cuttings, further developing the industry through the 1800s.
The modern Texas Wine Country can trace its roots to the 1970s when the capacity for a commercial wine industry developed in the High Plains region around Lubbock as farmers discovered the type of grapes that could be grown best. Today, Texas has over 4,000 acres of producing vineyard farmland and over 70% of the state's grapes are still grown in the High Plains region.
Around Fredericksburg, Bell Mountain Vineyards (1970s) and Becker Vineyards (1990s) were established and proved that the Texas Hill Country was viable as a grape growing location. Texas Hill Country wine tourism has taken off from that point to more than 50 wineries today.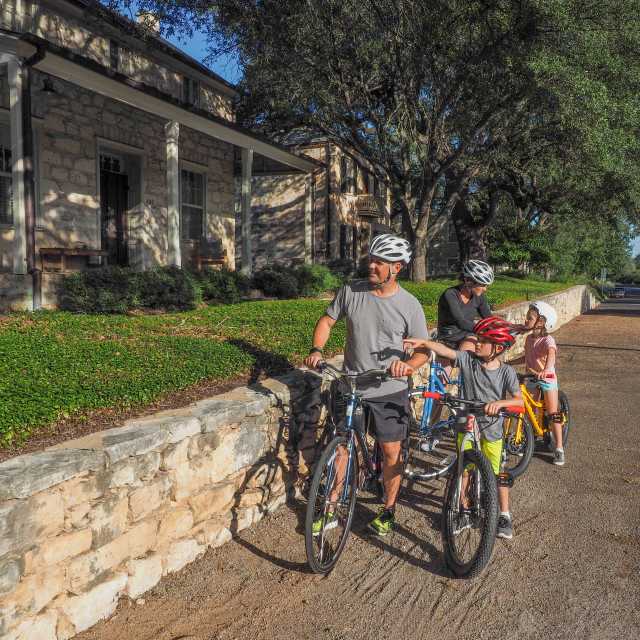 Whether you are considering your first trip to Fredericksburg or have been coming for years and want to discover...
Learn More
Whether you are considering your first trip to Fredericksburg or have been coming for years and want to discover...
Learn More