Farm-to-table. Pick-your-own. What about locally made? Check out these Fredericksburg favorites who offer products made right here in town!
Altstadt Brewery. An authentic Bavarian brewery, Altstadt Brewery, is dedicated to creating the purest, easy-drinking beers guided by the historic German purity law of 1516. Altstadt's premium German-style beers are carefully made using only four ingredients – hops, barley, yeast and artesian spring water. The 120-acre Old World style destination features a fine dining restaurant, brewery tours and a beautiful venue perfect for an elegant Texas Hill Country wedding or corporate event.
Chocolat. Specializing in liquid-center chocolates filled with spirits, wine, coffee and fruit nectar, Chocolat is the sole American manufacturer using the European method which dates back nearly two centuries. Locally made and more than 30 years in business, Chocolat also offers silky fudge, truffles, colettes barks, caramels and more.
Das Peach Haus.  Fischer & Wieser's Das Peach Haus is home to all of Fischer & Wieser's award-winning local products, from The Original Roasted Raspberry Chipotle Sauce to Mom's Garlic & Basil Pasta Sauce. It is also home to the  Culinary Adventure Cooking School, which utilizes Fischer & Wieser products and other local ingredients!
Fredericksburg Brewing Company. Brewing beer in Fredericksburg since 1994, the Fredericksburg Brewing Company is the oldest brewpub in Texas and offers award-winning fresh ales and German-style lagers brewed on-site in copper kettles. Grab a growler to fill up and take home with you, or even get a to-go cup to sip as you browse Main Street shops.
Fredericksburg Fudge. Completely made from scratch, Fredericksburg Fudge & Confections uses all natural ingredients and no preservatives or fillers for their decadent fudge. They also offer more than 60 different candies, as well as daily samples of their sweets!
Fredericksburg Pecan Company. Opened a little more than 15 years ago, Fredericksburg Pecan Company offers local Texas Hill Country 100% natural pecans and pecan products, from the pure pecan to chocolate covered and spiced pecans, as well as gifts and tins.
La Bergerie Market. Opened in 2018, La Bergerie Market, is stocked with beers, wines, house-made charcuterie, hand-selected cheeses, Joju Bakery breads and plenty of gift items.
Opa's Smoked Meats. Established in Fredericksburg about 60 years ago, Opa's Smoked Meats crafts hand-made sausages using traditional methods, as well as other slow-smoked meats and hand-crafted head cheese, all made on-site. Pop in any time during operating hours for a sample. We dare you not to leave without picking up something tasty!
To get started planning your trip to try all of these culinary delights, request free visitor information or browse these free online resources.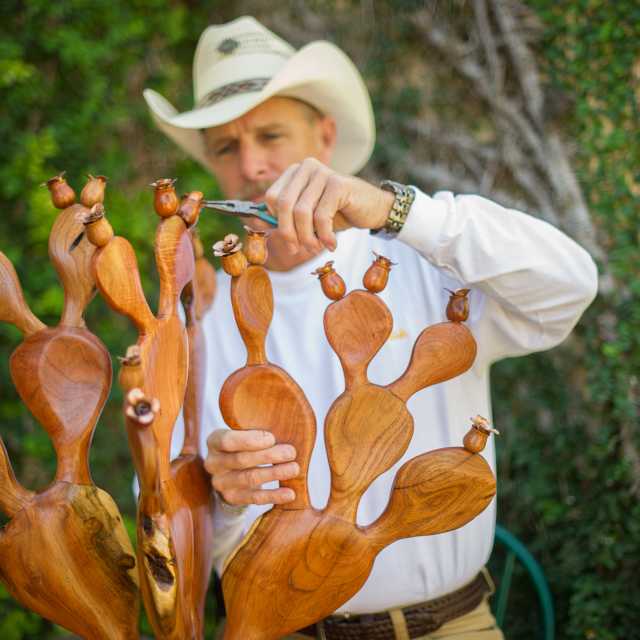 Find unique, one-of-a-kind products throughout Fredericksburg from foodie items to antiques and more.
Learn More
Find unique, one-of-a-kind products throughout Fredericksburg from foodie items to antiques and more.
Learn More