To enjoy the beauty of the Texas Hill Country, hosting an outdoor wedding is a great option in Fredericksburg. The area offers several venues with outdoor spaces that can host groups of all sizes and provide everything you need to celebrate a romantic and elegant storybook wedding.
Fredericksburg is centrally located, just a short drive from Austin and San Antonio, making it a perfect destination to hold your special day.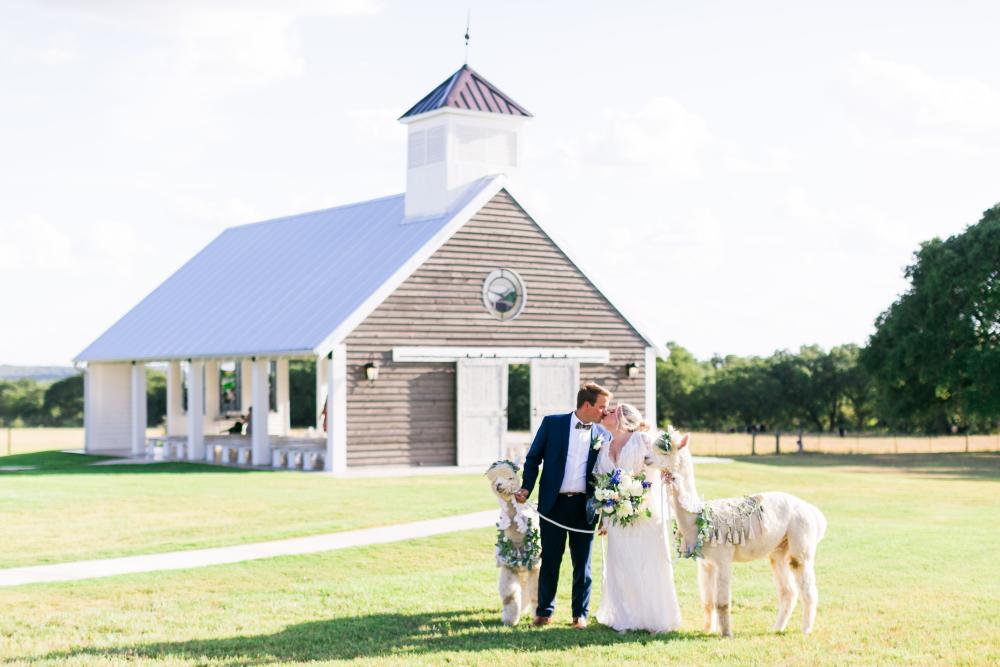 Located just outside of Fredericksburg and near Stonewall, Featherstone Ranch sits on 67 acres with panoramic views of the hills and a vineyard. Featherstone features an open-air chapel with stained glass windows, sliding barn doors and more than 50 wooden benches. The chapel provides a great, intimate place for exchanging vows in front of family and friends. The venue also has a large outdoor patio with lights, antique arbor and views for miles, all providing the perfect setting for dancing the night away.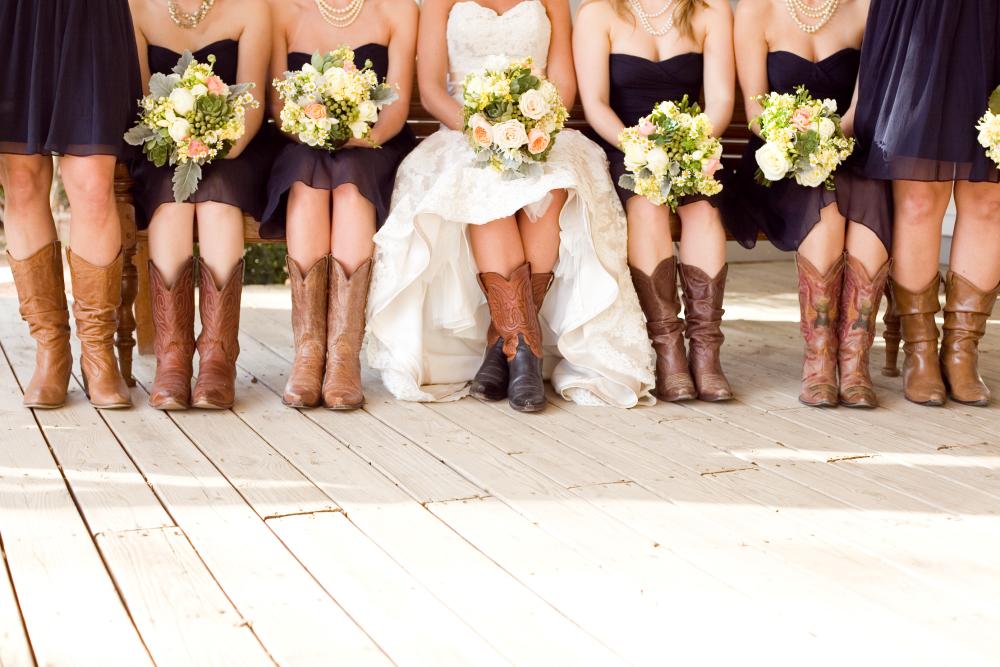 Made famous by Willie and Waylon and the Boys, Luckenbach Texas is a favorite wedding venue with a large historic dancehall, a general store and a bar. Couples can exchange vows under large oak trees or opt for a special open-air ceremony in the historic dance hall. Rental of the dance hall also includes use of the patio, campfire and parking areas. Luckenbach Texas also offers assistance with catering and music.
Barons Creek Vineyards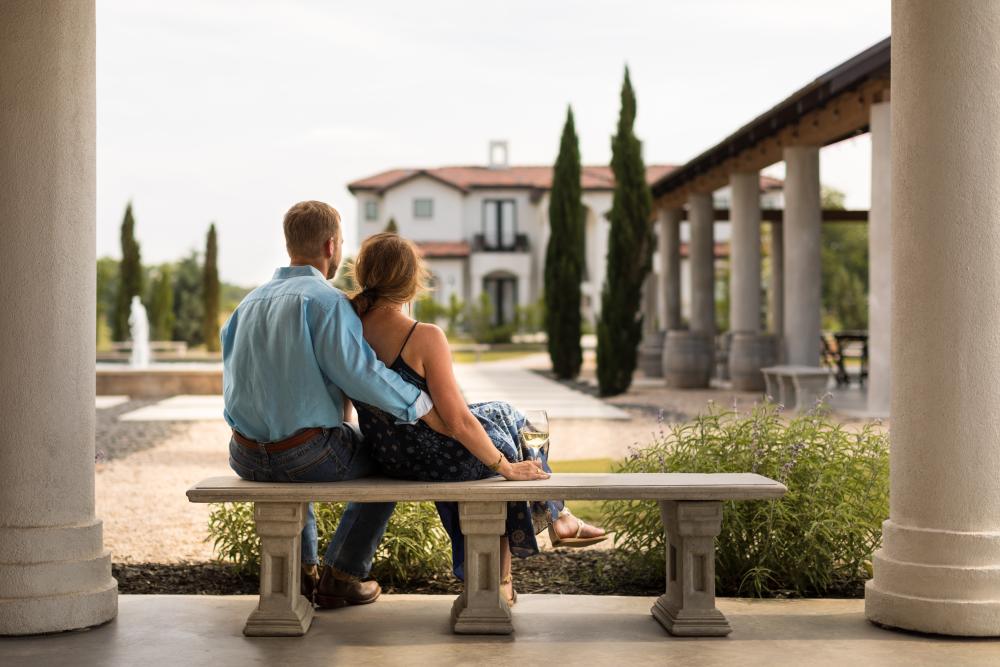 Noted as one of the most versatile venues, Barons Creek Vineyards can accommodate everything from country casual to vintage vineyard to rustic elegant. The vineyard can even provide a cool solution to keep guests comfortable during the summer heat. The vineyard provides different backdrops as well as outdoor pavilion space.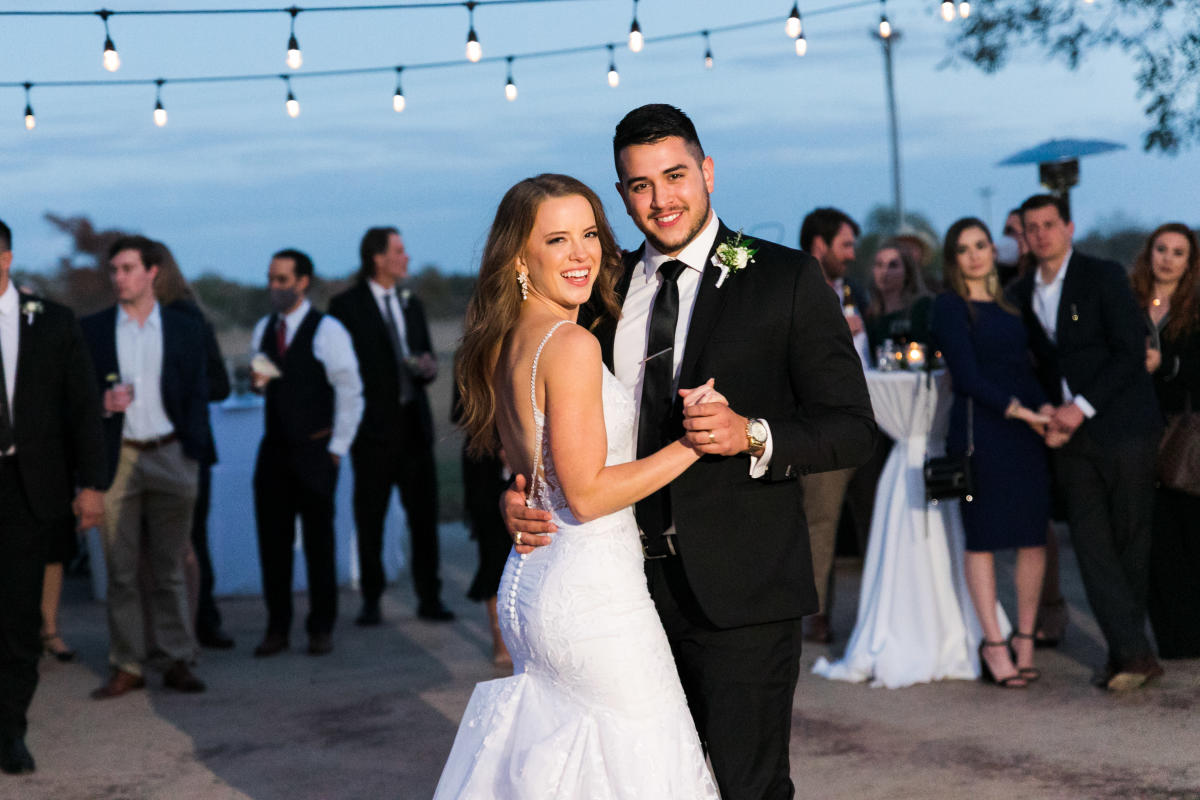 The Lodge at Country Inn Cottages offers more than 9,000 square feet on 10 acres for weddings of all sizes. Ceremonies can be held on a lit patio surrounded by mature trees. On the property, guests can see all kinds of wildlife including elk, whitetail deer and axis deer, providing unique photo opportunities. In addition to offering ceremony and reception space, The Lodge can also provide accommodations for up to 112 guests in 28 cabins. Also included are hot tubs, a pool, barbecue pits and outdoor fire pits.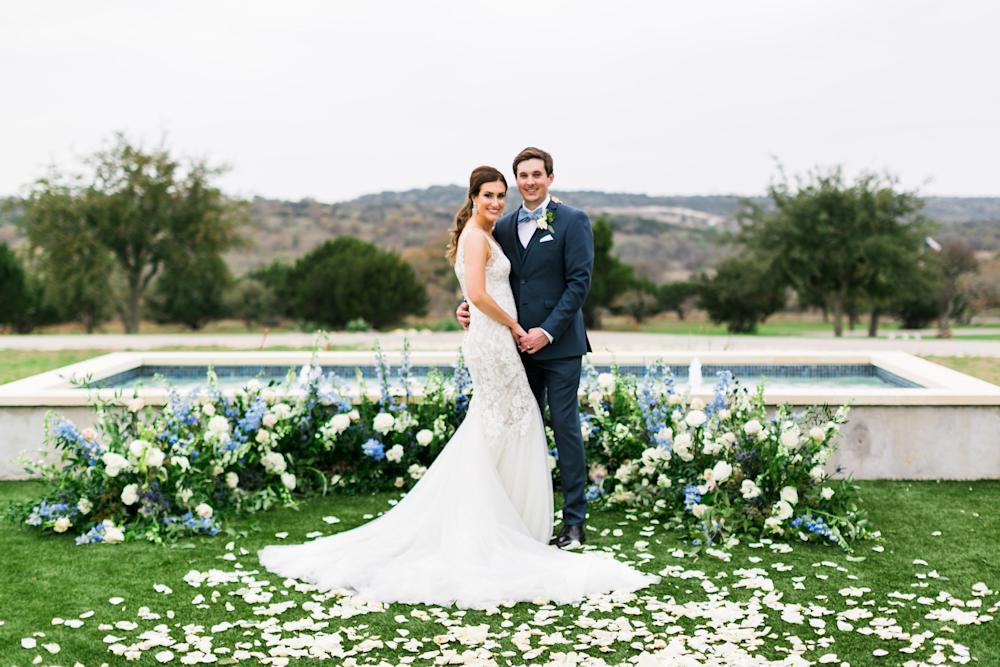 Situated five minutes from the Hill Country Wine Trail and Luckenbach Texas, Sunset Ranch Event Center provides plenty of outdoor and open air space for a memorable wedding day. Outside the main event center, a ceremony lawn is situated with a fountain and views of the Texas Hill Country. The main event center has sliding glass windows to allow for an open-air reception, plenty of natural light and views of the succulent garden, Hill Country sunsets and more. Sunset Ranch also features a covered terrace and an outdoor lounge area. Sunset Ranch Event Center also has a four-bedroom guest house space on the property as well as other lodging accommodations within a short distance of the venue.
Newly renovated in August 2020,  Vista Oaks Event Center is located on 70 acres just outside of downtown Fredericksburg. The grounds around the center can be used for outdoor ceremonies and can seat guests ---- Vista Oaks has a chapel on-site that features large stained glass windows and seating for 130. In addition, the event center has a large grand hall with a large bar and a stage with a projector. The space can be opened on both sides to create a breezeway. Adjacent to the Grand Hall is a smaller catering hall that can accommodate up to 120 people. Couples who exchange their vows here receive a love lock that will be placed on the grounds as a way to remember their special day.
---
Outdoor wedding planning tips
When hosting any outdoor event, it is important to make sure venues have a backup plan for inclement weather. Some also offer tents and shade areas to keep guests cool in hot, summer months.
Free wedding planning assistance is offered by the Fredericksburg Convention and Visitor Bureau. You will receive personalized service including assistance with itineraries, bid presentations for accommodations and venues, connections to local wedding planning professionals and free informational brochures. For more planning assistance, visit https://www.visitfredericksburgtx.com/weddings/.